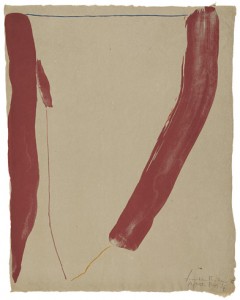 Professor of Art History and American Studies Elizabeth Milroy kicked off the Artful Lunch Series today to a group of nearly 30 including fellow faculty members, staff, and FDAC members.  She spoke about a 1969 lithograph in the DAC collection by Helen Frankenthaler titled A Slice of the Stone Itself.  Her talk gave special insight to the artist and her work as she had once visited the artist's Manhattan studio.  Interesting questions, an up-close viewing, cookies, coffee, and conversation followed her presentation.
Check out an article about this event in the Wesleyan Connection.
Be sure to join us for future Artful Lunches!
One work, one speaker, 15 minutes.
Wednesday October 26 – Andy Szegedy-Maszak, Professor  of Classical Studies and Jane A. Seney Professor of Greek
Tuesday November 8 – Sasha Rudensky, Assistant Professor of Art
Wednesday February 15 – David Schorr, Professor of Art
Wednesday March 28 – Michael Roth, President and University Professor
Wednesday April 25 – Joe Siry, Professor of Art History